| | | | |
| --- | --- | --- | --- |
| SELECTION | INTERIORS | OUTDOOR DESIGN | NEW PRODUCTS |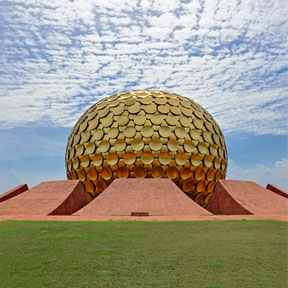 OUTDOOR DESIGN
Entirely made by hand, the 24k gold-in-glass tiles can easily embellish the perceptual qualities and functions of a new construction or the remodeling of an existing outer structure. Your creative abilities can indeed benefit from the refined and aesthetic pleasure experienced from the interaction between pure gold and other mediums of architectural expressions.
FACADE ELEMENTS
There are two ways to cover a building with pure gold. One is to get from us 24k mosaics that can be applied directly to the walls or the roof of the building.
An alternative is to cover the surface with a ready-made facade element. For this we usually use an AS 316 grade stainless steel that Goldinglass India can customize for you in any shape according to your specifications (rectangular, triangular, round, straight, curved, etc.). The design of the affixation system and the structural load calculations needed for your facade can be worked out and executed by us.

PONDS, FOUNTAINS & OTHER DECORATIVE ITEMS
We can supply ready-made tiled basins for ponds and fountains with curved edges. The standard diameter size is 2.40 meter with a depth of around 0.5 meter. The structural base is made of stainless steel (AS 316) covered with two thousands 24k mosaics. For fountains we supply the basins with either one or two holes at the center.
CUSTOM DESIGN
On special request we can customize any shape and size of 24k mosaics to suit individual designs and specifications